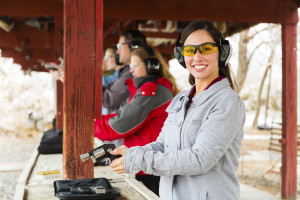 We think this NSSF article is quite helpful for the Firearms industry, providing tips to generate additional traffic flow throughout the year.
Here's a tidbit from the article:
Every business experiences slumps and slow times related to the calendar, season and weather, as well as the busy lifestyles of today's consumers.
Your shooting range is no exception.
If you have an outdoor range, you know the challenge. Cold weather often keeps shooters indoors or at home, waiting for spring to get outside for some target practice or recreational shooting. Likewise, summer heat can scare shooters indoors or persuade them to wait for cooler autumn days.
Indoor ranges experience parallel problems. When beautiful weather beckons in spring and fall, it's very inviting for shooters to do their thing outdoors. If you are located in a northern state with long or bad winters, summer shooting traffic can be an issue too. People prefer to be outdoors because they're cooped up for so much of the year.
Bottom line: No matter the time of year, what you are (indoor, outdoor or both), or where your range is located geographically, you can always use more customers filling lanes, buying products and providing revenue. The path to that result involves developing promotions that create excitement and value, and give shooters good reasons to come to your range.
Here are 11 promotional concepts to attract more shooters to your range at traditionally slow times and to leverage holidays and life events to generate additional traffic flow.
To read the full article and see the promotional concepts, click this link:  11 WAYS TO ATTRACT SHOOTERS IN THE SLOW MONTHS | The Range Report.