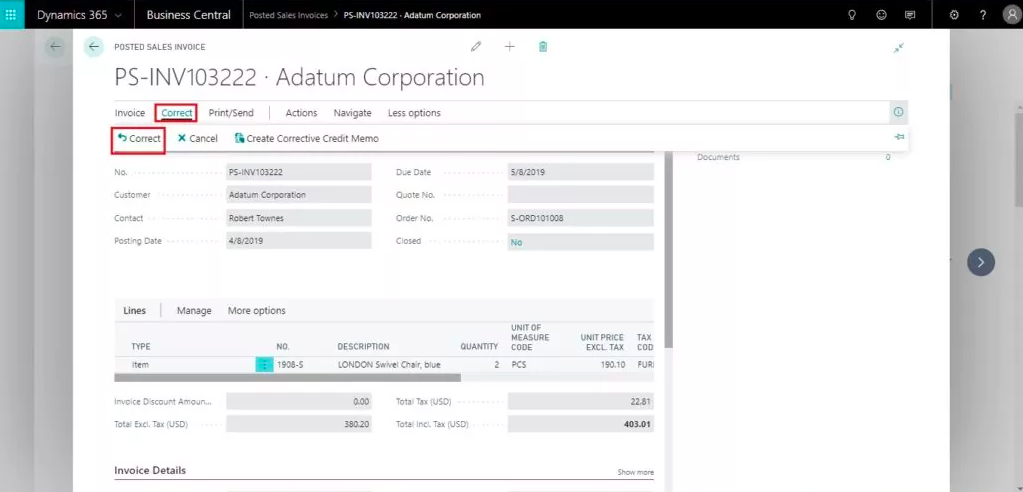 In Microsoft Dynamics 365 Business Central, once a sales invoice is posted that transaction cannot be edited. If that transaction is posted incorrectly and changes need to be made, you can do so through a correction process. Rather than creating a whole new sales order and crediting back the incorrect order this process can save you quite a bit of time.
Search > Posted Sales Invoices
Select invoice that needs correction
Select Correct – You have three correction options to choose from
Correct – Will reverse the posted invoice and automatically create a new invoice with the same information so you can correct before posting. This posted invoice will automatically be canceled.
Cancel – Will create and post a sales credit memo that reverses the posted sales invoice. The posted sales invoice will be canceled.
Create Corrective Credit Memo – Will create a credit memo for the posted invoice that will need to be completed and posted manually to reverse the posted invoice. This allows you to issue a credit memo for a partial amount.
Thinking about switching to Business Central? Contact sales@syssolutionsllc.com to learn about how Business Central can improve your business.