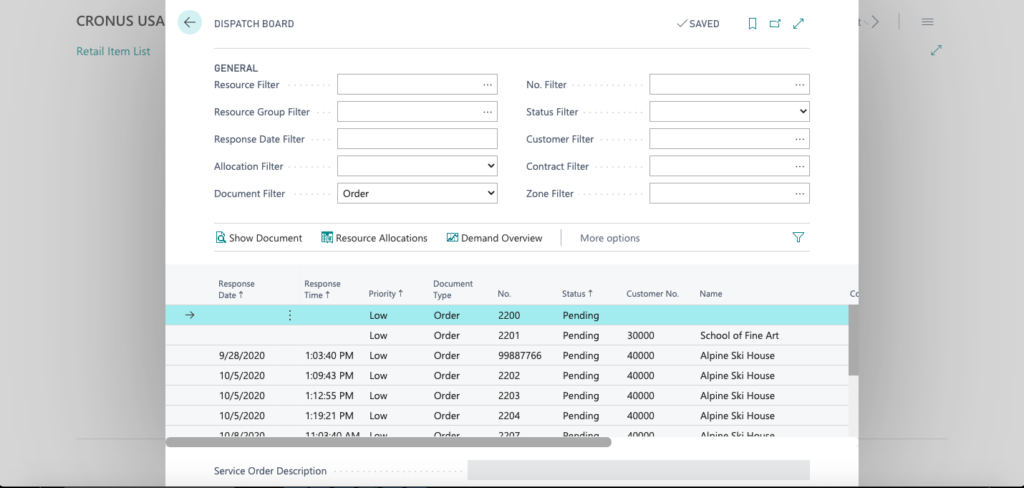 Did you know that Microsoft Dynamics 365 Business Central has robust Service Management features? Track warranty, repairs and notes on every service item. You can do this on the mobile app too, allowing your repair technicians to access or add to this data while on the job. Below are a few Service Management Components that you can use to help improve your business.
Service Item – Track serial numbers, warranty info and parts replaced/repaired. Service items have notes that are easily accessible, allowing a technician to quickly view an items service history. Items can have their own troubleshooting steps saved to help diagnosing issues go quickly.
Service Order/Quote – Troubleshoot, enter fault/repair codes, and assign technicians all from one screen. Save time and have all important information for the order saved in one place. All notes and repairs made are saved to the service item listed for the service order.
Dispatch Board – Get an overview of all service orders and quotes. Filter by type, technician, date and more. Easily see all jobs for a certain technician for the day or search by customer to find all open quotes and orders.
The Service Management features are completely customized through sliders and settings, not code. Easily require certain information, update default settings, and even create custom automatic notifications for service orders. Custom configuration allows you to get the most out of the service management features without investing a lot of time or effort.
If you are interested in learning more about Microsoft Dynamics 365 Business Central and the Service Management features please contact sales@syssolutionsllc.com.