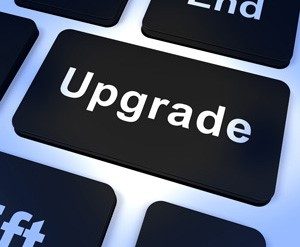 Having the right tools to run your business is essential – You need suitable inventory, hardworking staff members, a reliable way to keep records, and a POS system to process transactions. Sometimes you need to hire some new staff members or order new products for your inventory – But how do you know when to upgrade your POS system?
Your current POS system is outdated. If it is older than your youngest employee or intern, it is definitely time to switch. Do you remember wondering if your current POS system could withstand the Y2K changeover? If so, you're probably due for an upgrade.
You need multiple systems to run your business. You have a POS system for your registers, you have accounting software for your payroll, you have a few others to manage your inventory, vendors, and warehouse distribution. If this sounds like your business, then it is time to switch to one POS system that can perform all of those functions seamlessly and easily. Doesn't keeping your shirts, pants, shoes, and jackets all together in one closet make getting dressed a lot easier?
The employees using your system get frustrated with it. Maybe the inventory from your warehouse is never up to date because it doesn't take into account online orders. Maybe doing stock counts on pen and paper with no images of the items gets difficult. Keep this in mind: Your cashiers are the last people your customer interacts with before leaving your store. If they are frustrated during that final transaction because of something regarding your POS system, then they may not be leaving your customer with the best impression. Happy employees generate happy customers. Happy customers generate profit.
The support for your current POS system does not meet your needs. Every time you call you speak with a different person, so they don't know about how your system crashed last week and how that crash could be related to the current problem you're having. You try to ask for the person you spoke with last time, but you don't remember his name and the person you're on the phone with can't look it up for you. Upgrading to a new POS system and having a support team that assigns your business a specific technician can relieve many of these headaches in the future.
You want to be able to use tablets and smartphones. Have you noticed that more stores are checking out their customers on tablets and smartphones, but can't even imagine that being realistic for your own business? If you have an up to date POS system, then you can use the latest technology as well.
If you would like to speak with someone about upgrading our current system, please give us a call at 860-781-6470 or email us at sales@syssolutionsllc.com.