Comparing ERP and business management systems can be time consuming and difficult, with infinite resources comparing various aspects of each system. A reputable source for ERP comparison is Nucleus Research's ERP Technology Value Matrix 2017. This report analyzes prominent ERP trends for the year, as well as the top ERP systems in the market.
The most notable trend in the ERP market for 2017 is "verticalization" with cloud-based offerings. The shift in the ERP market moving toward cloud technology carries over from 2016 to 2017. However, as the ERP cloud offerings mature, vendors are "looking to diversify from the one-size-fits-all model, delivering more industry-specific capabilities out of the box". Many product suites are now expanding capabilities to include solutions tailored to different industries – we see this with vendors now offering cloud solutions specifically for SMB's, or for manufacturing enterprises.
After a market analysis, Nucleus Research's ERP Technology Value Matrix 2017 places each ERP vendor into one of four categories: Core Providers indicate low usability and low functionality, Experts represent low usability and high functionality, Facilitators signify high usability and low functionality, and Leaders refer to both high usability and high functionality.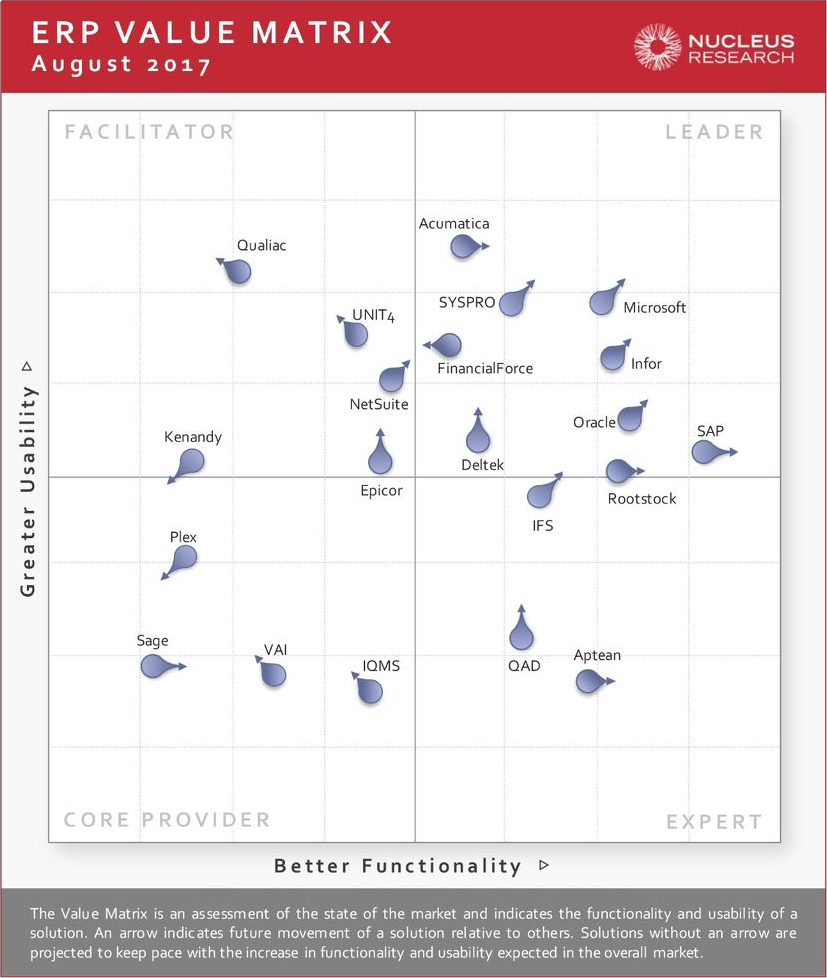 Some vendor positions have changed from the ERP Technology Value Matrix 2016 to the matrix above for 2017. A few vendors have shifted categories: Epicor was previously a Leader, and is now listed as a Facilitator, marking a decrease in functionality. The same occurs with NetSuite, and also with IQMS as an Expert to a Core Provider. Rootstock and FinancialForce have increased usability and functionality respectively, upgrading them both in the Leader category this year. Some vendors improved their position within their current category, such as Infor, Quad, and Aptean.
One vendor that stands out from 2016 to 2017 is Microsoft, who has held a firm placement in the Leader category for both years, with a projection to continue improving in both usability and functionality. In the report, Microsoft is also noted for its verticalization, providing many options for different industries with the Microsoft Dynamics 365 product suite, as well as working with independent software vendors (ISV) to develop and list industry-specific solutions on AppSource.  While there are many vendors analyzed in this matrix, Microsoft seems to be leading the pack.
If you would like to learn more about Microsoft Dynamics 365,
please email us or call 860-781-7136.